Norcom 2020 & 2020SF
Optical Leak Test Systems
Quantitative results measured in cc-atm/second helium

One-step calibration and setup

Simultaneously tests for fine and gross leaks

Tests variety of hermetically sealed devices, including PC board-mounted and pig-tailed packages

Provides Statistical Process Control (SPC) for tracking of test results

MIL STD approved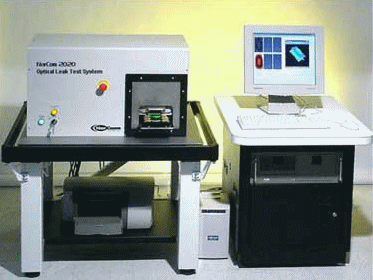 Norcom 2020
Norcom 2020SF (Single Footprint)
Norcom 410
Optical Gross Leak Test System
The Norcom 410 saves you time, expense and risk. It replaces bubble leak testing, eliminates polluting fluorocarbons, helium for mass spectroscopy, and radioactive Krypton tracer gases for parts bombing. It eliminates pollution, radiation, and the cost of consumables.

The bench-top system is suitable for almost any electronics production environment. Self-contained it includes everything you need for testing in one package. A barcode reader for data entry and LAN connectivity are available as options.
Norcom 410
Specifications
Dimensions 20.0" x 8.0" x 9.5"
Weight 25 lbs.
Power 100-220 VAC
50/60 Hz.
Max. Part Size 3x4x2 inches
Typical Test Time 10 seconds/part

Gross Leak Tests for:
• Metal Lid Packages
• Ceramic Lid Devices
• Si Lid Devices
• Hybrids
• Sensors
• Displays
• Microwave
• Fiber Optic Devices
• Relays

Electronic packages for:
• Medical
• Automotive
• Marine
• Aerospace
The NorCom 2020 provides automated in line, full matrix leak testing of hermetically sealed microelectronic and optoelectronic devices. It eliminates the need for helium mass spectroscopy and gross leak bubble testing by utilizing a patented laser interferometer to simultaneously measure gross and fine leaks in hermetic devices.
Since the reliability of hermetic electronic packages is dependent on the detection of gross and fine leaks, the NorCom 2020's pinpoint accuracy, repeatability and increased production throughput make the system an essential requirement for hermetic device production.
The NorCom 2020 provides quantitative leak test results in the industry standard of cc-atm/second helium. The system is ideal for optoelectronic, semiconductor and PC board-mounted devices for military, aerospace and telecommunication applications.